That's what happens when one organizes and tidies up... you can't find anything. It was that way when I was working, too. Desk a mess, but I could move two pieces of paper and find what I was after. Now, since changing around things in my cupboards, I will have to break habits.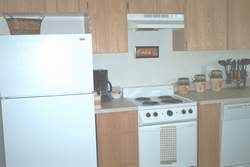 What was in the cupboard to the right of the stove is now on the left... so it now takes two moves instead of one....opening up one cupboard only to realize what I'm after is in the other cupboard. Luckily I don't do that much cooking.
(this photo is from when I first moved in and things were still clean. I'm a casual live-er... REAL casual, but it helps make life exciting. "Ohmygawd... I forgot I had this!")
I was just checking out
scribble-n-paint
's blog. Love the writing and the art. The link is on the side bar.