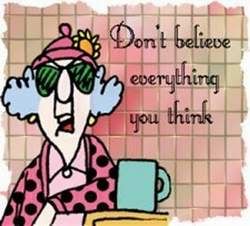 Something I need to remember... don't believe everything I think.
I woke up in the middle of the night and can't seem to get back to it. I've been sort of watching Poker After Dark. I know nothing about it. Something to do with flops and rivers... ?? Oh, I know what a hand is, but thats about all.
Turn it off? Oh sure, if I turned off the TV and laid down it might help get me back to sleep, but then I couldn't watch (means 'listen to') the comings and goings of other people. There are some weird schedules.
Guess I'll play a couple of hands of free cell then call it a night... Put on some Tolle to listen to and that usually puts me to sleep. (Eckard Tolle, in case you were wondering.)