This day might get by me without having an entry here if I don't do something and do it now. So I've flipped through my photos (nothing says 'entry' like a picture) looking for something to share. Here's an older painting I did of Cuba Gooding Jr from a photo. (yeah, like we wouldn't know its from a photo)

And a pencil drawing I did a couple of years ago..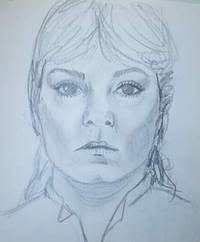 If something comes up later tonight I'll be back to write some more. If not, then I won't. See how that works?