"Big Head Boy" (c)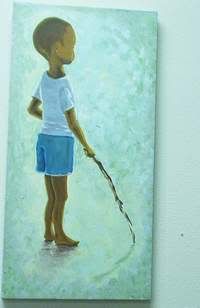 Sometimes I amaze myself. First of all, I wake up each morning...so far anyway. But beyond that I'm amazed that I can find something to write about here on the ole blog considering what a boring life I lead. It suits me, but its boring nonetheless. "So...whadda ya goin' to write about today?' you may ask. I don't know...lets see where it goes.
....
....
That's about it.
I watched the wee one today while mom and the Tornado Boy went grocery shopping. Then I helped unload the groceries. Mom put on a pitiful look and asked if I could continue watching the baby while she makes a quick run down the street. "I'll be back in just a short while. I need a break." Lucky for her I know what "need a break" means...so I caved and said okay.
The wee one was having a tough time with cramps. And if he is having a tough time, then so am I. Four hours of holding him...my shoulder hurts. And yes, I'm a wussie. But mom and T. boy are back and T. Boy is at his best....asleep. I'm set free to do whatever it is I do.
And amazingly the afternoon is almost over. Where'd it go??