Uneventful day yesterday. I'm waiting for my youngest daughter to bring my car back. I let her use it yesterday. I think she told me a lie so she could keep it overnight and now she won't be bringing it back for several more hours. She's moving in with a friend. Its not a good move for her, but what I can I do about it? I guess I was foolish to hope that all five kids would turn out to be okay. This last one is really turning my hair gray. Lots of prayers on her behalf coming up.
As I mentioned in the last entry I am sharing more photos taken from my friend's front porch. I know, I know... it can't get any more exciting than that, but I like looking at photos.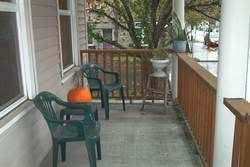 Like the title states... 'a view from the porch'. The pumpkin on the little table has not been carved. I did notice the sticky tag on it said it was organically grown. It seemed a bit strange, but who am I to say anything. If she wants to let an organically grown pumpkin rot on her porch, more power to her. Actually, my bet is that she just grabbed a pumpkin and it happened to be organic. Maybe its from Trader Joe's. (I've never been to that store but it sounds interesting.)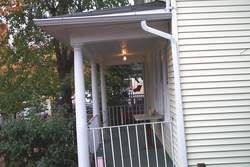 A view of the neighbors' porches. The houses are very close together. When the windows line up you get to know far more about the neighbors than you ever wanted to know. I would have sworn I held the camera straight, but it looks like the house is sliding down to the street. Ain't this exciting?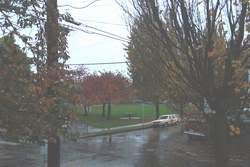 The park/school ground diagonally across the street. This is where lots of folks bring their dogs for exercise. Watch where you step.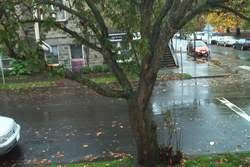 The church across the street has painted their basement doors violet. It may not show up in this photo. This church does a lot for those experiencing hard times. Every so often they put on a big feed and lots of homeless and not-homeless people come to get a hot meal. They also put on a "coffee shop" evening so the guys (they are mostly guys, but women are well represented, too) can come in out of the cold and hear live music, drink coffee... maybe feel a little more normal?? The church does good work for the homeless but the neighbors don't like it. Lots of nasty activity goes with the goodworks. When you have drug addicts around there are usually more fights and more things disappear from yards. The neighbors don't begrudge the good works, they just don't want it done in their neighborhood. Too many needles show up the next day.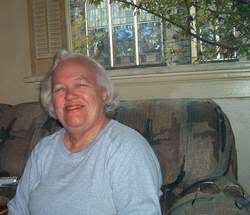 Another picture of my friend. Behind her and through the window you can see the stained glass windows of the church. They have a lot of them.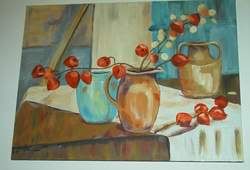 One of my "student" paintings my friend bought. I'm not sure if she really wanted it or if she was just helping me out... doesn't matter, but it sure did help me. However, now when I look at it all I see are the mistakes. It makes my spine shudder.
And that's all folks....