I've been feeling a little under the weather. Under that pile of leaves where its wet and moldy. Perhaps my body is simply dealing with apple juice. Whenever I give apple juice to the grandsons I know I can plan on changing diapers within 30 minutes. Although I don't wear diapers yet.....
Hold on to your hats. These pictures are so freaking exciting... I pulled over to the curb to take a couple of shots because, well just because it was there. I didn't come across anything more exciting than this: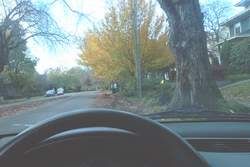 Because I was there...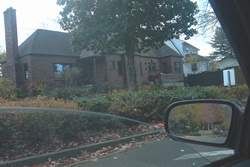 Because it was there. This is the back of the house. It sits on a elongated triangle piece of land that juts out from the corner.