(Before anything else I would like to thank those who recommeded site counters for my blog. I truly appreciated the input. Looks like statcounter is the one most used. Again, thank you.)
Imagine that... a rainy day in November. Yesterday I needed to get out of the apartment. One can only hibernate for a while before the walls begin to close in, so I decided to call my friend Lois to see if she was up for company. She said she had been thinking of me, as well, wondering if I would be coming over. This happens fairly often... one person thinking of the other and then 'poof' they appear. What we haven't been able to determine is if my "thinking" caused her "thinking" or the other way around. Perhaps its more likely to be both. In any event, she was not surprised by my phone call.
Our visits are usually pretty bland which suits us fine. Insignificant chitchat as we watch the food channel on TV followed by dinner. Lois is diabetic so must watch her diet and eating times closely. She also expresses her creative side through food preparation. As a result, those around her also benefit. She broiled some fresh local salmon using an apple based marinade and fixed some spinach with garlic and onions. It was soooo good and the fresh spinach was so GREEN! I had only experienced spinach out of a can.... perhaps two times in my life. But now here was some REAL spinach. I now have a better understanding of why Popeye liked it so much.
Here's a picture of Lois:
Her hair is white, totally silvery white. She went white at a very young age and its the only hair color I've known her to have. (I was surprised that she allowed me to take her picture.) She's not into the internet and has access to email only because of her employment.
Because I enjoy seeing photos on other blogs I purposely took pictures to share here. These are views from Lois' front porch taken as I took a few cigarette breaks during the visit.
Here's my car parked on the side street next to a stone church.... Sunnyside Church.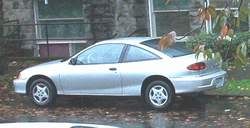 Looking out from the front porch is a renovated apartment. When Lois first moved into the house, this building was a plain square wooden commercial building probably built in the 40s or so. It was in great disrepair and had been closed up for a long time. Someone invested in it... invested their money and their labor.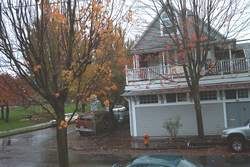 It took a couple of years, but what a wonderful building they created. One apartment downstairs and another upstairs. The upstairs has plenty of outdoor space and in the summer the tenents frequently entertain guests on their "porch" area. What is not seen is all the windows and decking on the rear of the building. It looks like it would be a fun place to live but the rent is way too high for me. Its Yuppy rent. It has to be to have the renovation, which was deep, pay off.
The house next to the corner apartments was painted with a lot of different colors... in a "painted lady" style for Victorian homes. Unfortunately, the colors don't show up in the photograph. The trees around here are brilliant in color...but as you can see, most of the leaves are gone now.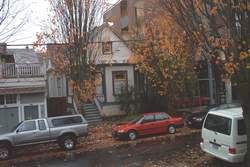 This large "compact living space" was recently built... retail on the bottom and apartments above. And no parking spaces left on the street. It is not unusual for me to have to park a block away now. Its not just from this particular new building but the entire area is "coming back" from hard times.
I've taken several other pictures 'from the porch' but I think I'll save them for tomorrows blog entry.