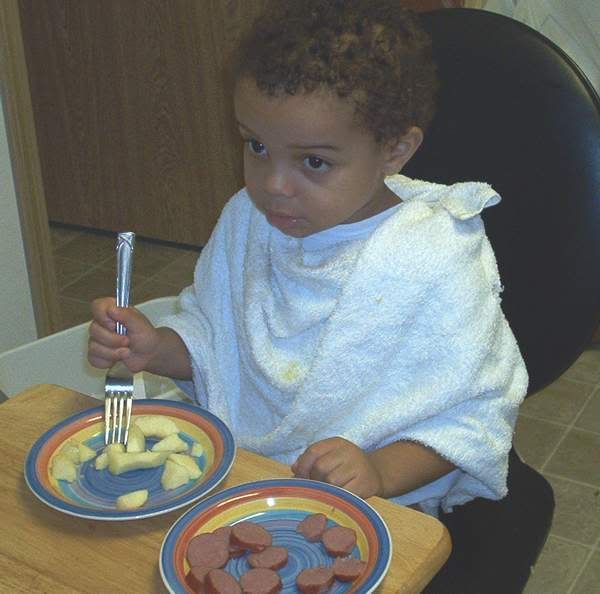 I had Darius over for the day. Here he is 'dressed for noodles' with a towel tied around his neck as a bib. Its an absolute necessity to catch the noodles that drop... all over!
He's a lover of Top Ramen noodles and that's the only thing in the house that he liked. (He passed on the cabbage....didn't want to have anything to do with it.) Here he is playing with apple slices after consuming two... TWO... packages of noodles. By himself. (He left the 'weiners'. His tastes must be maturing because weiners used to be one of his faves and the last two times I served them, he declined. Good boy!!)
So... after filling his tummy with carbs, closing the blinds a little, and turning down the TV until its just background noise, my boy slept three hours. You read it here.... THREE HOURS. How blessed am I?
As soon as he woke up completely he told me he was hungry again. This time it was tuna casserole and he had two helpings. ?!? I guess this was a catch-up day for him. He's staying with a family that has three small and smallish kids so I figure sleep is sparse as is the chance to get second helpings.
While waiting for him to be picked up we watched the
funny animal
section on youtube and laughed a lot at those crazy animals.
Oh... and hey... I also got some housework done!! I think it might have had something to do with taking a vitimin with B6 and 12. Energy/mood vitimins. I'm getting ready to go take another one for today.