Nothing much going on here. Looks like the Kuma Sutra virus didn't strike here... just another reason to leave porn alone. I bet there are some people out there sweating bullets, though. Yes, this is all I can come up with...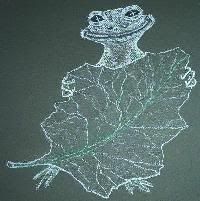 Shy Froggy is chalk on green paper. He came about because I "saw" him in a splash of paint on a shovel. I'll 'see' things in trees, floor designs, etc. Sometimes they are cartoon in nature, sometimes they are
regular
things. Certain kind of clouds are great for this activity.
I'm reposting things (or will be borrowing from the public domain photo site) for a few days because I need batteries for my camera again. Actually, I've borrowed batteries from the camera to use in my walkman. Its just a matter of getting to a store to pick up some more batteries. And yes, this is all I've got this morning.
Hope you have a good Friday.... and every other day as well.