We are having some beautiful days this week. Lots 'o Sun today but now the wind is picking up. I made it to Goodwill... I wanted to check on frames (nothing) and to see if I could pick up a pot or two. The ones I currently have are losing their teflon covering. I got three small ones. I won't know if it was a good buy or not until I cook with them. Here's a couple of shots of the parking lot at Goodwill... yes, this is the most excitement for the day.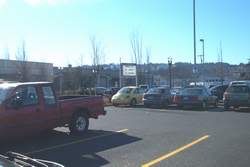 About 4pm Darius' mom called to see if I would have him over for the night. She's not doing anything in particular but needed a break. Two hours later we are back home.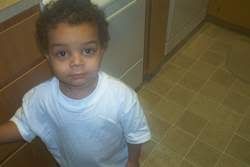 He looks tired but it could be that I'm ready to put him to bed.
Since I was taking pictures of him, he decided to take some pictures of me... using a tape measure.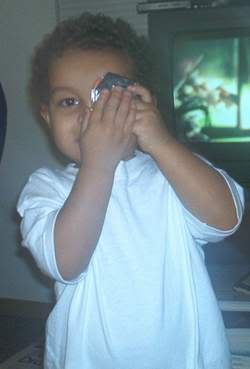 Gotta go... Darius wants to squirt water all over. I have to try to distract him.