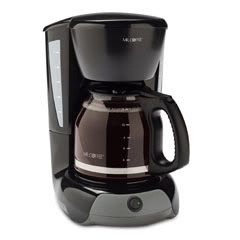 Mr Coffee indeed. Bah Humbug... and it ain't even Christmas.
When I moved into my current apartment it had been completely furnished by my son and his wife. I mean completely. There was food in the cupboards, in the freezer, and toilet paper on the roll. Broom, mop, vacuumn cleaner.... everything that a person would need, including vitimins. I even had a Mr Coffee coffee maker.
Granted, I'm sure it was a very inexpensive model. Just your basic heat and drip kind... but it has lasted only ten months. Thus the 'bah humbug'. I think they make the appliance so it will only last just so long. Lets look at the economics.
I think you can find coffee makers for under $10 when on sale or at Wal Mart but for ease I'm going to use $10 as the going price. $10 every 10 months.... in five years that would mean $60. hmmmm I wonder how much coffee maker I can get for that. And now days I wonder if a $60 coffee maker would last any longer than a $10 one.
Anyway, right now I'm heating water and pouring it into the coffee filter. I'll be checking things out next time I go to the store. I was thinking about going back to the ole percolator style, but I don't want to use the stove to do it.