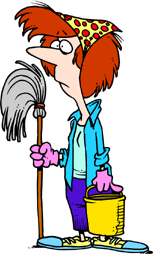 After hustling up quarters for laundry I discovered too late that there's no electricity in the laundry room. I discovered the situation AFTER putting the quarters in the machine. I'll be spending my day washing out things by hand.
Its frustrating because someone said they had called the property management company to let them know last week that all the outside lights were not working. I didn't make the connection that this affected the laundry room. And of course no one bothered to put up a sign so others would know about the situation. That's what is really ticking me off right now. Well... there's a BIG RED SIGN UP NOW!!!
Needless to say, I'll be calling the property management company today. I'll start off nice, but you know what they say... the squeaky wheel gets the oil. And I can SQUEAK LOUD if the timing's right and I'm angry at the time.
I guess we'll find out how good or bad the current property management company is now.