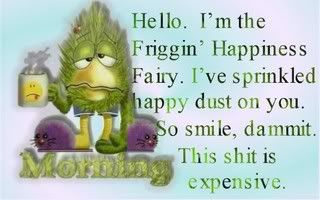 I'm trying to do some housekeeping without being inspired to do so. Lots of breaks involved, but progress is being made in spite of me.
My life is so quiet I have nothing to post. However, I did want to mention a terrific program I saw on public TV the other night. Perhaps you have seen it. Or you've already heard about him. It was about Randy Pausch and his
Last Lecture
at Carnegie Mellon University. There are many youtube videos about him and I believe his last lecture is also available there. If you want to take a peek, just key in "Last Lecture" in the youtube search field. If you want to see the full lecture, just look for the video posted by carnegiemellonu and/or the video that is 1 hr and 16 minutes long. (I haven't watched this one yet, but I'm assuming its his lecture.) What a fun guy and an amazing inspiration.