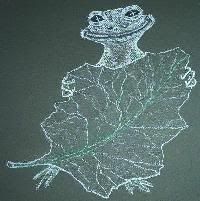 My first entry for
Illustration Friday.
There was finally a subject matter, Green, that triggered a memory for me... this frog, which was done several years ago. "Hey... He's green!"
This pastel sketch was inspired by a splattering of white paint and dirt on an old shovel sitting in a storage shed. Every time I went into the shed and looked at the shovel, all I could see was this frog grinning back at me. Since I'm such a quick study, after several months, I finally decided to 'record' my vision. And once my 'vision' had been done I could no longer see the frog in the paint splatter. I found that very interesting.... its very interesting how sight and mind work together. Or don't.