Two days in a row of sunshine. Be still my heart. The tree blossoms are blooming, the grass is growing, and the daffodils are sprouting. Awwwwww.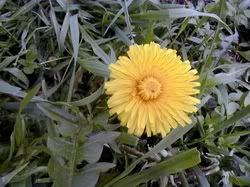 Well, yesterday my friend L. called and invited me over for a visit. Sunday is not our normal
visiting day
, but I bucked tradition and went over anyway. We had a pleasant visit. She fixed roasted chicken breasts and fresh asparagus. I could taste the green of the asparagus... 'nummy' as my grandson would say. (well, He wouldn't say it about the veggie, so much. You know. Being green and all.)
We played Upwards. It was a close game but she won by a few points. Then she sent me home with a doggy bag and a bag of chocolate covered peanuts.
While I was still there we heard from a passer-by that a little shop around the corner had been robbed and the clerk was shot... "and injuried." (That explained the parked police car in front of her house that we had noticed earlier.) I had to detour around the police crime tape when I left.
The story has been on the news. The clerk is in critical condition with a head wound. The attacker got away in a corvette. The clerk was a friend of the shop owner and was not usually working the store. (Timing seems to be very important.)
Crime sure seems to be on the rise all over the place. I hope the guy, the clerk, survives without complications, etc. Those who commit crimes are getting really crazy or really desperate. Or really both. The incident happened at 4 in the afternoon. The location is very busy with gobs and gobs of foot traffic. Thats not the best time for a robbery. Although, I should mention..."robbery" is speculation only at this time. Maybe it was a gang/mafia hit. A loan shark repo. Who knows. I just know the little store has been there for the longest and the owners have always been very nice to me. (And they have to put up with a lot of crazies and homeless people coming into the store. A mom & pop store.)
Ya jus never know.....