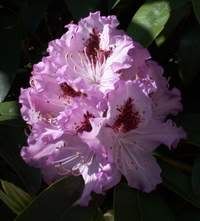 Its going to be a dry day here... finally. And the sun should be seen once in a while, too. Yahoo Spring!
I signed up for email notification from
Illustration Friday
. This is a site where each Friday a topic is chosen and people have a week to do (or find) art work depicting the topic... any medium, etc. Then they post it on their web site and send a link to IF (Illustration Friday)... others can then take a look at it. Any work is acceptable... doodles, photos, full fledged paintings.... done currently or done prior. It makes no difference.
Since this is Friday I took a look at the site and there were already 80+ entries for this coming week. I wouldn't be surprised if sometimes the participants are a thousand or more. We'll see how it goes (meaning my discipline to get drawings done).
I also found out (because I'm just plain nosy) that the free service of uploading photos to the web using
Photobucket
has a size limitation. Go over it and you will need to buy the space at a minimal fee. If one was to post photos to their blog and have their blog for a long time, I could see this charge happening in my future. This will make me more careful about what I want to upload, but since I now have a monthly income, small tho it may be, this will not be a problem for me. And I have certainly been grateful for their free service... there'll be no bitching from me. Surprised?
Oh... and I came across this awesome site via a Live Journal user.
Ashes and Snow.
There are two options to chose from... enhanced experience and basic. If you have high speed access, then you'll get the full experience of it. (be sure your sound is turned on) You will also need a large monitor screen. Unfortunately, mine is small and it kept me from being able to access the 'portfolio' link (it was beyond my screen display). I hope you enjoy it.
That's it for now. May your day be blessed with gratitude.