Daffodils have been out for a few days. Actually, I don't know how long they've been out... I only noticed them from my window a few days ago. What a wonderful spate of color against the wet, dark mud.
Shadows can be seen today. Another good omen for the day... gotta dig out the ole sun glasses. You remember what they are, don't you?
One of my daughters (I refer to her in the written word as 'mom') borrowed my camera for a few days. Her family unit was going to
OMSI (Oregon Museum of Science and Industry)
. I haven't seen all the pictures taken on that day, but here's a couple:
"Can You Hear Me Now?"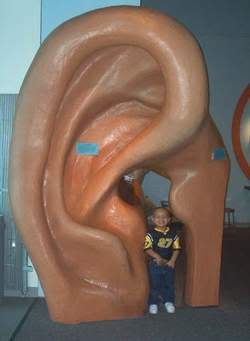 Here's the latest picture of the 'wee one' who will be one years old next month... look at those cheeks!!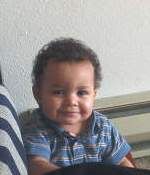 The brothers seem to have developed a strong bond right from the get-go, although the wee one hasn't been very vocal about it yet. I figure the wee one is here to help Mr. Sparks keep balanced... to bring some "calm" into his world. And Mr. Sparks is here to protect the wee one from bullies. "Bruddar" was one of Mr. Sparks' first words... that and "NO!"
I was checking out one of my favorite blogs (those that I read every day religiously) and he had mentioned that he received a notification from the advertisers on his site... there have been too many "clicks" on their ads which indicates some padding was going on. He has a large audience and I guess some of them just wanted to help out. I clicked on a blog ad once (not on his site), but I was actually interested in the subject... I just didn't have any money to purchase said subject. It wasn't high on my priorities. To be honest, I can't even remember what the subject was now.
I hope your day is as beautiful as mine. The one downside to sunshine is that it shows up all the dust and grit when you have the blinds wide open. "SHUT THOSE BLINDS!!"
This was too good to pass up... I don't usually get good marks!
You Are 60% Open Minded

You are a very open minded person, but you're also well grounded.
Tolerant and flexible, you appreciate most lifestyles and viewpoints.
But you also know where you stand firm, and you can draw that line.
You're open to considering every possibility - but in the end, you stand true to yourself.