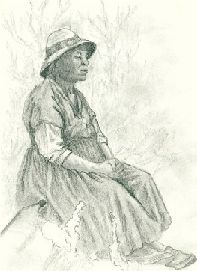 This drawing was done a long time ago and it has been posted before. Perhaps twice. But I wanted to put something up and I got nothink! Nothing but repeats.
The baby elephant has finally been "reunited" with his mom, Rose-Tu, and its looking good. I mentioned below that the newborn had to be removed from 'mom' and the other elephants because 'mom' was getting too violent and there was a great concern that the calf had been seriously injuried internally. But all is well.
Rose-Tu has never even seen a birth, let alone experienced one. I can only imagine what might have been going through her mind when she finally delivered her own baby.
"WTF? What the hell did I just poop outta me?!"
And you all know what you do when you see something you don't recognize... you nudge it with your foot to see if it moves. Rose nudged it then began to stomp at it. That's when they rushed in and removed the calf. But as of this morning, baby and mom are together, baby is nursing, and mom guides the baby to stay under her belly for safe keeping. Whew! (The zoo keepers and vets were very worried at first. There were tears being fought back during the first announcement explaining what was going on with the baby. This was before they knew whether or not the baby was okay internally.) Awe.......
We are having cool, rainy weather. Its marvelous!!
Hope ya'll had a good weekend.