I'm sitting here at the pc with the window opened...the breeze blows in firmly. So firmly I almost feel like getting a jacket. I'm trying to get the apt. as cool as possible before closing everything up in a little while. Its suppose to get close to 90 degrees today. If I can get the apt. cool in the morning, then it stays fairly cool. And "fairly" is the operative word.
I've already ran a short errand this morning and I shot this picture of a bus stop.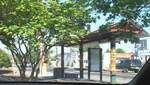 A bus stop? you asked... yes, a bus stop. I was trying to get a shot of the artwork. If you see a yellow spot on the column of the roof area... that is the art. It looks like an American Indian design. When the city expanded the Max trains (public transportation option) they hired several artists to "prettify" the train stops.
Leslieann Butler
was featured on last week's Oregon Art Beat. A loose, whimsical style with gobs of color. She is best known for her pet portraits. She started out doing realistic colored pencil art but when she experimented with a looser style she became instantly addicted. I like the looseness and color.
Brrrr... I think I'm going to have to go put on a jacket now.